With the surge in new log cabins and log homes, many homeowners are contemplating using log siding on the exteriors and interiors for a full log look. Some common questions are often brought up about using this building material. Let's take a look at 7 FAQs about log siding.
Is Pine Log Siding Material Durable?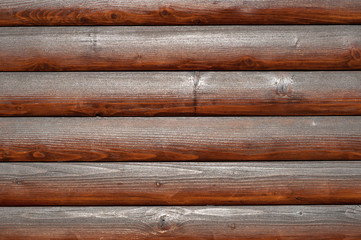 Pinewood is durable because it has been used in many different applications over the years in the U.S. and other countries. It resists shrinking and swelling and is used for both exterior and interior products. It is less expensive than hardwoods, lightweight, and has a beautiful natural appearance.
You should seal pine log siding to protect it against the elements and retain its natural appearance. Sealing and finishing products make this wood even more durable and resistant to moisture, decay, and insects.
Can Log Siding Be Applied to Conventional Home Framing?
Any log siding profile can be applied directly to framing or OSB board with appropriate screws and nails (more information follows in another section). Use a cordless drill and the right size nail gun for the fastest installation.
Log siding can be used on both the exterior and interior walls of a cabin. When used on both, it provides more insulation value than thin aluminum, steel, or cement siding. Even more insulation value can be achieved when used with 2"x 6" wall studs. Log siding can be installed on existing homes to convert them into log homes with a full log look. This material will change your concept of a log home.
Do You Save Time and Materials with Log Siding?
The time and material savings are significant in several ways you will appreciate, including:
Less measuring time because the tongue and groove end-matching design fits together on the ends as well as the sides.
There is no need to end-butt on studs because the end joints are secure between studs.
You will experience less sawing time that gives up to 20% less wasted material.
The overall time spent on installation saves up to 20% in labor.
Save additional precious time by order siding in a pre-finished condition.
"Any log siding profile can be applied directly to framing or OSB board with appropriate screws and nails."
What's the Difference Between Quarter Log, Half Log, and Premier Log Siding?
The difference between these 3 types of log siding is based on the profiles or designs of the logs. Quarter log is 1 3/8" thick and 6" or 8" in width. It has a slightly rounded face that gives it a quarter log appearance. It's the most economical of the three to achieve a real log cabin look.
Half log is 2 ½" thick and 6" or 8" wide with a well-rounded front to provide half of a log look. It gives a fuller log appearance and is the most popular profile. Both quarter log and half log are available in smooth and hand-hewn surfaces.
Premier log is thicker at 2 7/8" and is available in 8" and 10" widths to provide a deep log profile. It has a narrower width tongue and is the fullest design of the three products.
What Type of Screws or Nails Are Used to Fasten the Siding?
The following recommendations have proved to be the best for screws and nails:
Exterior Quarter Log Siding: Galvanized siding nails (8 penny ring shank) or corrosion-resistant decking screws (2"-2.5" long).
Exterior Half Log Siding: Corrosion-resistant decking screws (2.5"-3" long) or galvanized siding nails (14 penny ring shank).
Interior Knotty Pine: Any finish nails or brads work well (16 gauge 1.75"-2.0").
Additional fastener information is found here.
Is Log Siding Economical compared to Full Logs?
Anyone who has used log siding realizes it can save up to 50% on walls compared to full logs, their associated installation labor, and equipment. Since a log cabin or log home can be erected faster with siding, you will easily see how 'time is money."
Where Can I Find High-Quality Wood Siding Online?
High-quality log siding is available online from the Woodworkers Shoppe – America's leader in log home building products. The prices are fair, customer service is on target, and shipping terms are the best in the industry. Order yours today and start your log cabin or home soon.
References and Resources: