Welcome to the Woodworkers Shoppe! With our interior and exterior wood paneling and siding, you can make "Any Home a Log Home" for a splinter of the cost of a full log home! We are the leaders in Log Home Products!
Enjoy the warmth of wood on the exterior with our log cabin siding and exterior wood paneling options, or in every room with our log home interior products. Choose from Pine or Cedar tongue-and-groove paneling for walls, ceilings, and floors. Our custom wood siding is available either unfinished or prefinished with Sikkens or Perma-Chink stains. In addition to exterior and interior wood siding, we also offer hand-hewn logs available for decorative rafters and lodge poles or structural log porch and rafter systems.
Our custom wood shoppe offers these additional log home products: Kitchen Cabinetry, Interior Knotty Pine and Cedar Doors, Rustic Log Railings and Stair Systems. The Woodworkers Shoppe offers high quality, milled-direct-to-you rustic wood siding, paneling, and other products. We sell our products at a fair price, and we want to make sure that ever customer is a satisfied customer. Check out the introductory video below, then click on the category headings at the top of the page for more pictures and information about our products and company.

Our popular products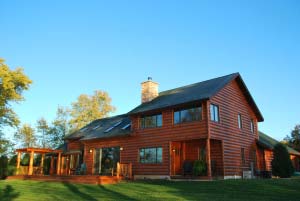 This real wood siding is engineered and designed for easy installation with minimal waste and measuring. Our unique end-match log siding design gives us a distinct advantage over our competitors, as it saves you installation time and material waste. Our custom wood siding is sure to save you time and money on your next renovation project!


All of our log paneling is tongue and groove all the way around the boards for a zero-waste installation. Skyline Woods end-match system is our unique tongue-and-groove design on the ends of all our exterior and interior wood siding. You will not need to butt end matched wood paneling or siding on a stud.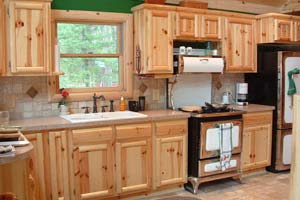 Timber Country Cabinetry offers hand crafted, custom built kitchens and baths made to your specifications. The craftsmen use only the best materials available for their cabinets as every piece of wood is hand selected for quality and beauty to assure you of the finest cabinetry possible.

User Reviews
I thought you may want to see some final pictures of your product. We love it, it turned out awesome for doing it the first time ever. Thanks again for all your help!!!! Feel free to use these pictures for any thing in you web…
My 3 year basement project (MAN CAVE) is finally complete. Great product! I have always liked the wood look. The overall quality of the wood paneling and the ease of installation was very impressive. I was going to do…
We drove up a couple of years ago from outside Chicago and picked up a load of paneling for my addition and I could not have been more pleased with the results. Not bad for a boat mechanic eh! Used the leftover wood to build my bar.
Hello, I ordered your blue log siding, approx. 1500 sqft, logs went up easy and look great, get a lot of compliments, will be ordering all my interior needs from you also, great stuff.
I just wanted to send a few before and after photos of my basement project. My wife and I are so pleased with the way the paneling looks. We have to say that your knotty pine paneling was easy to work with and your guys did an amazing job on the bar top.
Hello, My name is Jody Holling. I bought the material to side my home from you in 2006. I've been meaning to send you some photos of the finished product. The stain is Sikkens natural natural. My wife and I handled…
More Reviews
I built a home office using your knotty pine paneling and flooring. Because of that, our office was recently featured on the lifehacker website. Not only do you provide great log home products it was very easy to work with you on all aspects…
I love your products! Attached are photos of before and after of my house. I had the addition framing and dry-walling done by contractors. The exterior and interior I completed on my own outside of work hours…
I wanted to pass along some pictures of the finished product. It was great working with you and I could not be more pleased with the end results as the pictures were very helpful on your website when I was trying to get ideas…
The basement project is finally finished. I used Cabot willow reed stain with a Min-wax polycrylic water based finish. The polycrylic finish really made the beauty of the wood jump out. I really enjoyed finishing my basement…
As per our phone conversation I am enclosing a few photos of our summer place on (Schroon Lake New York in the Hamlet of Adirondack in the Adirondack mountains)…