Prefinished Log Siding – Have our professionals apply your choice of an exterior or interior stain product to your log siding panels. Our preference is with the following quality, top-of-the-line, log home finishes…
Sashco's – Transformation Log & Timber – Oil Base
PPG Sikkens – Proluxe Log & Siding – Oil Base
Perma-chink's – Ultra-2 and Ultra-7 – Water Base
Continental's – WeatherSeal Exterior – Oil Base
Sashco's – Capture Stain – Water Base
U.C. Coating's – Seal Once – Water Base
Prefinished log siding saves you up to 50% when compared to on-the-job-site finishing.
There are no delays with weather or scheduling a painter. Our prefinished siding arrives to the job-site already sealed with protection from inclement weather.
Finish is applied in a controlled environment to not only the face and back of the siding, but on all edges, ends, tongues & grooves, which provides a total seal on all of our prefinished wood siding. Our application meets and exceeds all warranty requirements by the stain manufacturers.
Our prefinished log siding panels are available in both Pine or Cedar. Choose from all our prefinished siding profiles in Quarter Log, Half Log or Premier Log with either a smooth or hand-hewn look for an authentic hand-peeled look.
We prefinish all of our matching corner options, that will in turn, transform any home into that dream log home when used with our prefinished log siding. We offer quality prefinished wood siding, unfinished log siding panels and other wood products at a fair price and make sure that every customer is a satisfied customer!
Log Siding Indoors?…you bet!
Looking to use our prefinished log siding on the interior as well? No problem, we'll finish in clear coat or apply the stain of your choice and apply a clear coat over that. Then, it's just install and enjoy your log siding for a lifetime!
Check out our wall of prefinished log cabin siding with our most popular selling colors of exterior pre-finished siding (below). Keep in mind, that there are many more color options available for our prefinished siding. So, choosing a color that suits to your desire, will be no problem at all! *We offer more manufacturer's stain products than shown on the wall.*
This Prefinished Log Siding Wall is open for viewing at our Michigan location.
We've assembled the image below with the top third of each panel to be an accurate representation of our Pine Log Siding.
The bottom two-thirds of each section are different profiles of our prefinished Northern White Cedar Log Siding. (more stain colors available!)
By displaying both of these species together on one wall out in the elements, our customers get a real size view of real log siding with stain already applied.
All of our log siding is harvested within 100 miles of The Woodworkers Shoppe, in Northern Michigan, so we are proud to say that we are blessed with local raw materials.
(1) Sikkens Log & Siding Natural 078
(2) Sikkens Log & Siding Natural Oak 005
(3) Sikkens Log & Siding Cedar 077
(4) Sikkens Log & Siding Butternut 072
(5) Perma-chink Lifeline Ultra-2 Bronze 874
Close-up of hand-hewn Cedar prefinished wood siding with the same Sikkens color options shown above
Hover mouse over the photo for color name
Perma-Chink Ultra 2 color chart below
Perma-chink Systems, Inc. website
Home below has Sikkens Cedar 077 applied to our 3 x 10 Pine Log Siding
(*note most of the home is pictured in the shade, thus the color appears darker in shade)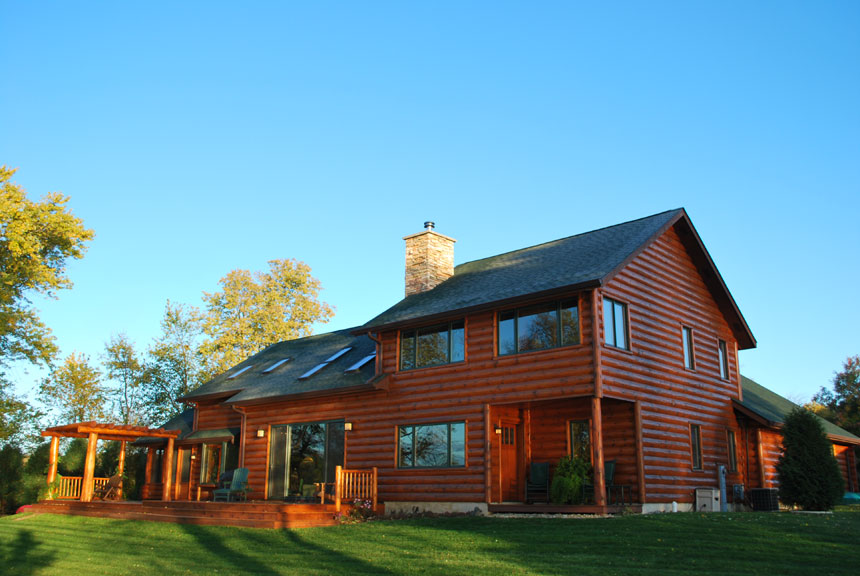 Milled Direct to you pricing!
All Pine Log Siding now on SALE (see below) (sale prices from our Michigan location only)
Three lines of prefinished wood siding to choose from to fit any budget or project
Quarter log siding
The economic prefinished log siding solution for the everyday log home. Available in smooth or hand hewn, 2×6 or 2×8 in knotty pine or cedar…
(2×6 *Pine 20% off)
Half log siding
Our most popular log siding style, for those who want a true log home without the full log price. Available in smooth or hewn, 3×6 or 3×8 in knotty pine or cedar…
3×7 Cedar now available!
(3×6 *Pine 25%off, 3×8 *Pine 20%)
Premier log siding
For the log home enthusiast. An upscale look at the possibilities of log siding. Available in hand hewn only, 3×8 or 3×10 Deep D in knotty pine or cedar.
(3×8 *Pine Premier 20% off & 3×10 *Pine Premier 25% off)
*Denotes Red Pine
Check out our prefinished wood siding installation video to see the ease of the end-match
(no waste) system below:
click here for full printable prefinished siding installation instructions for all applications
*Please note*, this video is only to be used for minimal guidance,
Proper use of cutting, measuring, fasteners, stain/sealer and caulking are required with all of our log siding installations.
Click here to order log siding samples, catalog, brochure, and DVD.
Need a price quote on our prefinished wood siding or other prefinished siding products?
Click Here.
Testimonials: Our quality and service makes the difference...
don't take our word for it, just ask our customers about our prefinished siding.
"We wanted to take the time to thank you and your company for the fabulous wood we received from you this past month. I have diligently been putting up our log siding, trying to beat the weather."
Jeff Chamberlain – Lapeer, MI
"I just wanted to let you know how impressed I am with your organization and your products. The product was absolutely beautiful and was expecting to find some unusable boards, but to my surprise there was not a single board that was unusable. Not even one that was in semi-rough shape. And I do have to say that the information provided about hanging the log siding is exactly right. It was a dream to work with. With the T&G on all four sides, it went up quickly and smoothly!
It only took approximately 5 days to hang all the log siding (and that includes trimming out doors and windows)!!! With respect to your company, ever person dealt with, was pleasant and willing to go the extra mile. The gentleman that delivered the product was pleasant, courteous, and very helpful unloading the log siding. Again, just wanted to say thank-you for everything. My house is everything I had hoped it would be!!! Thanks!"
Chris Johnson – Winona, MN
More customer's say…
"Remember me? I'm the school teacher from New Jersey that purchased the quarter log 2 x 6 log siding from The Woodworkers Shoppe last summer. The exterior of my lake home has been completed, but the interior needs some finishing touches before moving in. Sending you a photo of how the siding looks. We love it! Once I finish landscaping and we move in I'll send you a "finished product" photo. Thanks once again for your help in finding the siding that was perfect for my needs."
Doug Castellana – Sussex, NJ
"Well, we are finished log siding our cabin. The quality of the materials we purchased from you was excellent. Plus, we've enjoyed working with it as there was very little waste. Here is a few pictures of the finished project. Wishing you all at the Woodworkers Shoppe a nice day!"
Larry and Ginnie Burt – Atlanta, MI
"I wanted to thank you for your promptness on replying to my e-mail. Enclosed is a picture of the cabin with the materials I bought from you. I have been very happy with your company from the quality of the wood products to the affordable price. Many people have come to see my place and were very pleased with what they saw, therefore, I gave everybody your companies name and told them what a nice company you were to deal with. If in the future I am in need of anymore wood products I will give you a call. Thanks again."
Mark Kohrs – Florence, KY
Even more customer's say…
"Just a quick email to tell you how pleasing your product is. I had purchased the quarter sawn 2 x 8 some time ago from your company and every piece went together nicely without one bad piece in the whole two pallets!!
Thank you so much!!"
Loren Coney – Shepherd, MI
"We just visited your web site and WOW, am I impressed!! Love the man cave stuff. As a former customer, I must tell you that your products have truly enhanced our log home. We recently completed an addition to our existing full 8 inch log home. The average person does not notice the difference between full log and log sided construction. They assume it is all the same construction. A pic demonstrating where old meets new and the only way to tell is with the chinking, which is applied on the full logs. We also sided our pole building to match this year and I've included before after pics also. Thanks again, hope to hear from you soon."
Loree Kaltz – Capac, MI