Prefinished Paneling – "Nail it up and you're done!"

Prefinished Knotty Pine Paneling is available in widths of 4″, 5″, 6″ and 8″
Pre-finished Cedar Paneling is available in the 6″ width
All are 3/4″ thick
The Prefinished Paneling is graced with a high quality finish that is sealed on the face and all edges which eliminates any unsightly shrink lines as opposed to finishes applied in the field. This professional grade factory applied finish has a durable, non-yellowing, satin sheen, that is glassy smooth. Before the 1st and 2nd coats of finish are applied, each piece goes through a complete sanding process, that in the end provides a furniture finish to the paneling.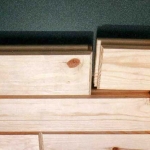 Like all of our paneling, the prefinished paneling is tongue-n-groove and end-matched for zero-waste. Skyline Woods 'END-MATCH' is our own innovative and unique tongue-n-groove design on the ends of the paneling boards, which has literally turned the industry around over the last 20 years!
There's no need to butt our end-matched paneling or siding on a stud. No more "Old School" 12 & 16 foot lengths to wrestle with warping, cracks and loose knots, let alone cutting each end to square it off to fall on a stud. The end-matching significantly reduces the amount of measuring and cutting on each job. The results are 15-20% labor savings and up to 20% less material waste. By choosing the prefinished paneling you'll save an additional 50% over the costs of hiring a painter to finish it. Our prefinished knotty pine paneling can save you time, effort, and money. We guarantee the highest quality wood product and finish…. Even when you use our prefinished paneling to renovate your guest house!
---
Comparing Prices? Our prefinished wood panels have larger coverage or stack height per board than our competitors; make it a point to ask for square foot pricing. Don't be fooled into a low lineal foot (l.f.) price when actually your coverage could be less.
---
15% Off

– 4″ -Prefinished Pine Paneling
5% Off

– 5″ -Prefinished Pine Paneling
10% Off

– 6" -Prefinished Pine Paneling
10% Off

– 8″ Prefinished Pine Paneling
---
Best Color Stains for Knotty Pine Paneling – See Below
---
Click on thumbnails to get a closer look at our prefinished wood panels!
---
White Washed Knotty Pine Paneling Gallery
---
In addition to our "IN STOCK" Clear Coat Prefinished Wood Panels, we can apply the following
Sherwin Williams (SW) or Minwax (MW) stains with 2 coats of clear top coat…..
(Click on a color image, then click the arrows inside the image)
All stains are applied to our Knotty Pine Paneling.
Colors may vary depending on your screen's color calibration and each
board's character and variation of grain & knots….
(Click on a color image, then click the arrows inside the image)
---
Check out our knotty pine prefinished paneling installation video
to see the ease of the end-match (no waste) system:
Prefinished Wood Paneling Testimonials
"Hello Again, I first saw your website months ago and thought the pricing and testimonials were too good to be true.
We had a new home built on a small lake in the Nicolet Forest near Mountain, WI. The 75 year old log cabin we've been staying in for the past 30+ years wasn't going to provide us with a year round home once we retire in a couple years. We had all the rough in stuff done: insulation, water, heat, but we opted to do the inside finish work ourselves. Probably a story you've heard many times before. Anyway, we exhausted every other tongue and groove supplier available through our builder, local lumberyards, even sawmills in the area and no one could come close to what you offer.
I still felt very unsure about handing my credit card information to a company in the middle of nowhere 350 miles away without ever seeing their product. It takes my wife and I a long time to make $5000 and I didn't want to purchase something we'd have to look at and regret for the rest of our lives. I called and spoke to your sale associate. She explained your products and assured me the testimonials were legit and you guys have been doing this for many years. She made me feel very comfortable with our decision to purchase the tongue and groove materials we needed for new home from the Woodworker's Shop. I was walked through the ordering process and she made some very helpful suggestions for the trim I would need.
Then the next issue, how would I get over 6000# of lumber to our new house? I've worked in the trucking industry for over 40 years, the last 25 for Rock Transfer. We have a 30 truck regional fleet that covers Northern IL and most of WI and a 20 truck road fleet that services most of the Eastern half of the country and mostly haul industrial products and raw materials. I thought I can talk to some people here and get it handled. Our trucks get to Detroit, Kalamazoo, Grand Rapids, but unfortunately, don't get anywhere near Comins! Not for free anyway! Angelique suggested one of your company trucks and with the discounted rate, it was a no brainer. There was no way I could arrange shipment at a more reasonable cost.
I spoke to the driver, Jeremy, on the phone before he left MI to confirm the time and he called again the morning of the delivery, which is more than I would have gotten from one of our drivers! We had a flat tire on the skid steer we we're using to unload the product. The one side of the trailer was unloaded without too much of a problem but when we went around to unload the other side, the grade made it impossible to get the wood unloaded. Jeremy suggested pulling his truck out, turning it around and pulling inn forward so we could unload from the same side. It worked! We unloaded the rest of the pallets, signed the BOL, and Jeremy was on his way.
There have been many issues to deal with and figure out how to work through while we've been building our new home these last 2 ½ years, but thankfully, getting our end matched tongue and groove paneling purchased and delivered was not one of them. I can't imagine being more impressed or satisfied with our purchase.
You have a great company, and extraordinary people working there who make it that way! Thanks again to everyone at the Woodworker's Shop! We genuinely appreciate your efforts!"
Greg and Barbara Zaharias – Mountain, WI
"Hello, I don't have a question, I wanted to let you know we r sooo happy w/your pine ceiling & flooring we purchased from you. We just got the ceiling done, and your materials r perfect!! And we didn't have hardly any waste, and all the boards were straight and the tongue and grooves lined up perfectly!! Ordered a pine floor from lumber liquidators a couple years back, and they can't even compare to your quality of wood. We will recommend your products to anyone we know of who needs flooring, paneling, etc. and are going to use it elsewhere in the house since it's so beautiful! Can't wait to do the floor!!! Thanks again, very happy w/purchase!!"
The Rayborn's – Harrison, MI
"I have just finished installing your knotty pine prefinished paneling on the ceiling and one wall of a room in my Florida home. In my 60 years of working with wood in my work, as a hobby and as a confirmed DIYer, I have never had the pleasure to work with such beautiful material. The boards were all straight and flat, the knots were tight and not too large, and the finish was perfect. My wife and I are thrilled with the new look of our room and have told several people about your product. Thank you for being exactly as advertised and thank you for your help with our order."
Walter Laverty – Kissimmee, Florida
"Last summer (2015) we purchased a little over 1300 sq. ft. of your 1 x 6 Knotty Pine Prefinished Paneling for our cathedral ceiling and loft. We are in the process of building our retirement home and wanted that something special…you know, that WOW factor when you walk into the home. Like others, I was worried about buying such a major part of our home on-line, sight unseen. And, like all other testimonials I read, I couldn't be happier with the product, ease of installation, and especially, the finished ceiling (OK, I still have some trim work and lighting to finish).
The end match feature is a huge time saver and the only waste was at the top of the walls (and with just a little planning, we minimized that also). We did have very few dinged boards that I was planning on calling about/sending back BUT I was able to use them on ends or when I had to 'rip' a board. No phone calls or returns! To say we are thrilled with the new look of our ceiling would be an understatement. Our thanks to everyone at the Log Home and Woodworkers Shoppes that helped me figure out exactly what we needed, made ordering easy, and worked with us on delivery to our upstate NY home! Here are a few pictures. As good as they are, it looks even better in person! Thanks again!"
John & Barb Salisbury – Salem, NY
"My Sincere Appreciation! I purchased 6600 linear feet of your T & G paneling. One word- outstanding! Your driver was great and the product exceeded my expectations. Thanks."
Michael McIntire – Georgetown, KY
"Just wanted to let you know how pleased I am at the quality of the pine paneling I ordered from you. I'm half way through the installation, and it looks great. I never bought such an expensive order over the internet before, and I must admit I was apprehensive. However, I was pleasantly surprised that the quality and price both were better than I could obtain locally. Your knowledge of the product and advise to me was also reassuring. Once again, thanks for your help."
Tom Mulcahy – Contoocook, NH
"My order arrived in great shape and on time, so thanks for all the help. I have to say, the wood turned out beautiful! Even better than I expected. Seeing the prefinished paneling in person with the Min-wax Early American color absolutely blew me away. I am kind of sad it is going all the way up on my ceiling, I won't be able to look at it so closely. It looks so good that I wish I would have had you guys finish all of it!
Since the prefinished paneling looked so great from you guys, would it be possible to get a rundown of the exact steps (coatings used, sanding done, etc) involved in your prefinish process? The color is so even and the finish is so smooth, so I would like to try and replicate that process on the wood I will be finishing myself.
Again, I can't say enough about how beautiful the prefinished tongue and groove looks, I am completely satisfied with the final product. It's just gorgeous! I will surely do business with Woodworkers Shoppe anytime I need paneling or log products! Thank you,"
Jason Hayward – Ray, MI
"Thanks once again for the 1 x 8 knotty pine paneling, my basement
turned out great. I was hoping you could refer me to a source for knotty-pine log furniture. Also, please feel free to use me as a referral if you need to for the tongue & groove paneling as I was completely thrilled with it. The ease of installation and quality of the boards was second to none. Thanks Again and I look forward to hearing from you."
Mike Schultz – Bellevue, NE
"The order arrived late Wednesday and the ceilings are all hung and in place….looks beautiful! FYI…We have not had an unusable piece of wood in two orders of over 1500 sqr feet
…..this is awesome stuff!
Joe Rayl, Villages Roofing & Construction – Leesburg, FL
"We just recently finished installing the 5" T&G I purchased from you in September 2015. I injured my back right after receiving your product and was delayed several months. I just wanted to let you know what a fantastic product your company puts out. Only a couple of boards damaged in shipping and was even able to use them before I was done. The small amount of waste was incredible. Virtually no knot holes fell out. Just wanted to let you know how pleased I was with your product. We have attached a couple photos.
Thank you,"
John Preston – North Chili, NY
"I wanted to thank you for your promptness on replying to my e-mail. Enclosed is a picture of the cabin I built with the materials I bought from you. I have been very happy with your company from the quality of the wood products to the affordable price. Many people have come to see my place and were very pleased with what they saw. I gave everybody your companies name and told them what a nice company you were to deal with. If in the future I am in need of anymore wood products I will give you a call. Thanks again."
Mark Kohrs – Florence, KY
"Well, we are finished siding our cabin. The quality of the materials we purchased from you was excellent. We enjoyed working with it and there was very little waste. Here is a few pictures of the finished project. Wishing you all at the Woodworkers Shoppe a nice day!"
Larry and Ginnie Burt – Atlanta, MI
for more testimonials click here

Images shown in this site are items that we sell, or have sold in the past. We reserve the rights to these images and all contents is this site. Copyright © The Woodworkers Shoppe and Skyline Woods. All rights reserved