In addition to the kitchen, dens are a special gathering place for family, friends, and guests. We watch television and movies, play games, view sports programs, snack, and even eat meals there. We also read books, play musical instruments, use our digital devices, and sit in front of a warm fireplace in the winter. With all this activity going on there, wouldn't it be fabulous to create a log cabin adventure in the room?
You can easily turn your den into a rustic and charming log cabin. It's only one room and not an entire cabin, but the time you spend there will be soothing and relaxing. There are two approaches to use: wood interior wall paneling and log cabin siding. Let's explore each of the options in some detail.
Once you convert your den, it will be used even more often for entertainment, conversation, fun, and pleasure. It's not an expensive and time-consuming process, and many homeowners can remove the current drywall and install the wood interior wall paneling or siding in no time.
Paneling Is a Standard
Paneling is an interior standard for log cabins, log homes, and some types of conventional houses. You've probably seen it in these places, as well as in state parks, old homes, and even retail stores. The three most common wood interior wall paneling are Knotty Pine, Knotty Cedar, and Faux Barnwood, and can be used on walls and ceilings.
Knotty Pine is a favorite with its knots, color variations, and mineral streaks. This wood is a great way to bring nature into your home, whether it's new or old, large or small. It's easy to work with, install, and finish.
Knotty Cedar is similar to knotty pine but with a little more reddish brown color and a pleasing aroma. Northern white cedar is ideal for higher moisture area like bathrooms and saunas. Add a touch of flair to a closet in your den or family room. It's a wood that is also easy to work with, install, and finish.
Faux Barnwood has come on strong during the last decade because it simulates reclaimed wood without all the issues. Manufactured from pine by a unique process in leading wood mills, it adds the reclaimed look and feel.
Create a Log Cabin Effect with Log Siding
If you really want the full effect of a log cabin in your den, add log siding to the walls in one of its three styles. You can enjoy quarter, half, or premier D-siding on the walls and select from Pine, Cedar, or Barnwood. Impress your family, friends, and guests with a genuine-looking log cabin room. They will admire it and want to come back to spend time with you.
Raw Wood – You can go with 6", 8", or 10" widths and 2" or 3" thickness to produce the full-log atmosphere you desire. Stain with the color of your choice and apply a clear finish.
Peeled Logs – Create the authentic hand-peeled look called "hand-hewn" with peeled log siding. It will transform your den, family room, or man cave into something of true character and rustic beauty. This type of siding can easily be stained and finished.
Pre-finished siding – Save time and money by ordering siding that has a polyurethane finish applied at the mill. It will be expertly applied in controlled conditions to all edges without any runs. With it, there's no need to hire a painter, and there's no mess to clean up.
Additional Benefits of Paneling and Log Siding
Our wood interior wall paneling and log siding are made from the highest quality select wood. Each piece is sawn to precise dimensions, and hand inspected to be defect-free. We dry all wood products to the correct moisture content so it won't warp.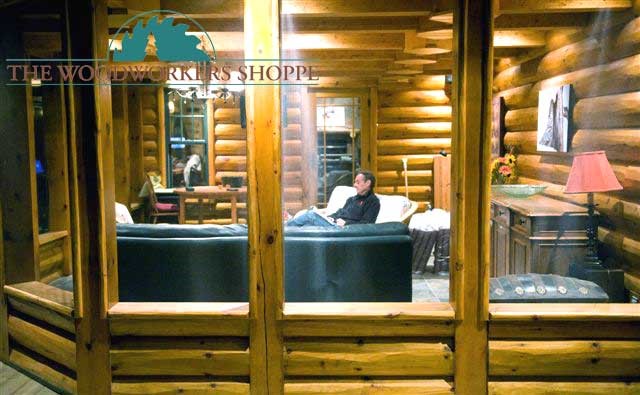 All wood interior wall paneling and log siding are created with the tongue and groove end-matching system. This ensures tight-fitting joints that can be made anywhere between studs. All it takes to install siding or paneling is a nail gun. You will enjoy these additional benefits with our wood products:
No sorting, ripping, or nail pulling
Wood that is free from odors, toxins, and insects
Products that are warranted to your satisfaction
Prices that are affordable for any size den
No worries of running out of pieces
Find Everything Your Rustic Den Needs Online
Avoid going to several retailers and waiting in long lines by ordering online from the WoodWorkers Shoppe. We manufacture and stock an extensive line of wood products for your rustic den, family, room, man cave, or all rooms in your home, including trims and molding.
Our repeat customers like our friendly service, selection of products, affordable prices, and orders that are filled fast and accurately. Browse our complete website for everything you need and talk to one of our specialists at 800-818-9971 – you'll be glad you did.